Plan An Event
We are committed to creating the best meeting and event experiences that are of the very highest standard to exceed all your expectations. Whether you are planning an international conference, global summit, or a small local event, Langkawi International Convention Centre offers state-of-the-art facilities. Our highly professional team will be there every step of the way for your business meeting in Malaysia to carry out all specific requirements with maximum flexibility.

Here are some ideas for you to consider at our Langkawi International Convention Center conference venue:
Our grand ballroom space capacity is of 1660 sqm with seating for up to 1,200 participants will be transformed into a spectacular venue for your world-class convention, conference, gala dinner, luxury wedding or corporate event.

Our meeting space capacity can accommodate 20 -1,200 persons.

A VIP room, press room, large conference registration counter, organizer's office and separate secretariat offices are also available to complement your event.

Stunning beachfront venues at The Westin Resort Langkawi and The St. Regis Langkawi are available for you to host a private cocktail party, themed dinner or party under the stars.

Both locations are easily accessible on foot and transportation can be arranged if required.

View our detailed floor plans and capacity charts to help you plan and execute the perfect event
If you need any further assistance about meeting space capacity, grand ballroom space capacity or other queries please do not hesitate to contact us.

Plan Ahead. Be There. The Time Is Now.
---
Maximize your meeting experience in Langkawi. At The Westin Langkawi Resort & Spa, we offer six meeting rooms, including a grand ballroom and a private jetty which adapt to the needs of your meeting, conference or seminar.

We are here to support you to be back in action with flexible terms and offers.
Click here: THE TIME IS NOW

1. Choose 2 out of 3
1 complimentary room night per 15 room nights.

1 complimentary for every 10 paying delegates.

2x Marriott Bonvoy Points.
2. Local Delights
Live 'Teh Tarik' action counter during the AM/PM break.

Themed Coffee break arrangement during the AM and PM break.

10 minutes morning energizer before meeting.
The booking window is from January 25th to December 31st, 2021.
Event must be actualized by December 31st, 2022.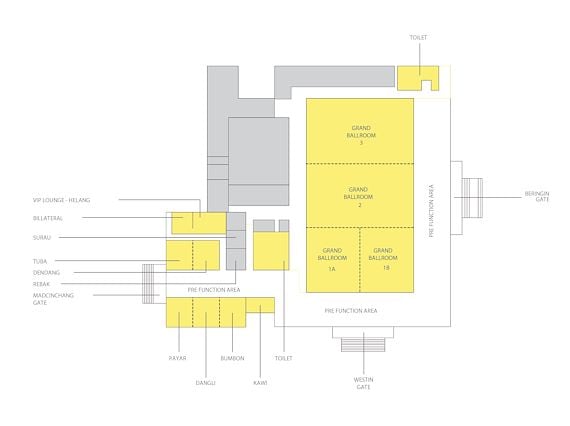 Click below button to download the information on the space and capacity for your reference.
Infrastructure and Facilities
Enhance your event with our in-house or contracted A/V services. With sophisticated and advanced technology convention centre infrastructure coupled with a skilled and trained team, we are ready to service your needs for multimedia presentations in conjunction with big conferences, training seminars as well as large-scale product launches.

We also offer high-speed WIFI access across all venues, convenient speech systems and full effect lighting, as well as live-translation services. There's even a wide choice of entertainment options to give you event some local flavor with Malaysian culture performances incorporating Malaysian dance and music.

Start planning and contact us if you need any assistance or queries regarding our convention centre infrastructure and conference room facilities, we will take care of all arrangements.

Here are some of the services and conference room facilities available to ensure a successful event:
Welcome Dance: Borneo Dance, Royal Dance or Malaysian Colorful Dance.

Dance & Other Entertainment: Malaysia Truly Asia Dance, Traditional Welcome, Malay Traditional Instrumental Music, Live Band.

Trio, Jazz Quartet or Pop Band.

DJ and Equipment: DJ & PA Audio System, indoor and outdoor lighting, computerized karaoke.

Audio Rental: microphones, sound system.

Video Rental: Projection screen, LCD TV, LCD projectors.
Safety & Security
It is important to observe standard Malaysia travel safety tips when visiting Langkawi. The safety of our guests is our top priority and fundamental.

The following convention centre safety & convention centre security measures at the Langkawi International Convention Centre relate to normal conditions.
Langkawi International Convention Center main entrance with boom gate at Jalan Beringin, 24 hours with one security guard available.

29 closed circuit television cameras strategically installed within the property.

One 50" monitor and one 32" monitor installed at security control with 24 hours security guard presence.

All security cameras are capable of 30 days playback option.

Smart patrol system installed with motion sensor connected with CCTV to entrance door of the building.

Every employee vehicle has been registered and issued a parking pass.

All vendor and contractor ID cards are collected from driver at the main entrance and vehicle numbers are recorded.

24 hours emergency response team available on each shift.

Vehicle parking near the building is not permitted and monitored by safety & security department.

Isolated entrance available for top VIP's, with isolated VIP parking area monitored by CCTV 24 hours a day.

Isolated VIP emergency evacuation route available with CCTV monitoring.

Smart door lock system installed and connected with CCTV and motion sensor, a forced open door will immediately activate alarm at control room.

Four hydrant pillars around the building with hose reel cabinet mounted next to it and break glass for public to access key for the cabinet in emergency

Two 30 meter hose reels and one diffuser nozzle.

Nine hose reels available inside the building, which are connected with fire pump room and maintain pressure.

Sprinkler system, fire system, public announcement system and smoke extraction fans are installed.

Ansul kitchen hood fire suppression system with fire shutter door.
There are several layers of security within Langkawi Island as follows:
Balai Polis Kuah, Address: Jalan Ayer Hangat, Kuah, 07000 Langkawi, Kedah, Malaysia, Phone:+60 4-966 6222.

Balai Bombadan Penyelamat, Address: Jalan Ayer Hangat, 07000 Langkawi, Kedah, Malaysia, Phone:+60 4-969 3004.

Balai Bomba Dan Penyelamat Persiaran Putera, Address: Persiaran Putra, Kuah, 07000 Langkawi, Kedah, Malaysia.

Hospital Daerah Langkawi, Address: 07000 Langkawi, Kedah, Malaysia, Phone:+60 4-966 3333.

Langkawi Naval Base (Mawilla 3), TLDM Tanjung Gerak, Langkawi, Kedah.